Recently, Lee began a collaboration with Amy Zinner of
Potted Plantscapes
, a Louisville-based company. We recently sat down with Amy to get some insight on where the partnership began.
It goes back to an evening a few weeks ago when she bumped into Lee and his wife having dinner at
Le Relais
, a place they regularly
dine
. As they were catching up, Amy took advantage of the opportunity to casually share her portfolio with Lee. "Your business begins where mine finishes," he said, and they soon sat down to discuss the opportunity of collaborating. While Amy saw a way to meet clients of Lee's calibre, he saw it as a potential design service he can offer to his clients.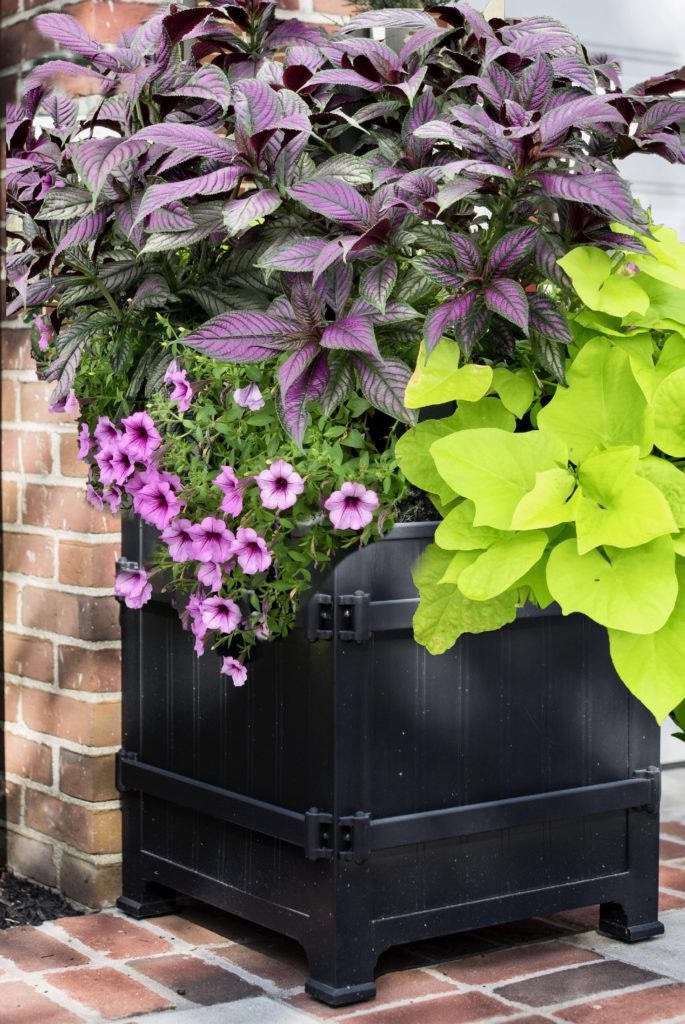 For just over a year, Amy has been building her client list and providing plantscape design and implementation around town. Prior to this business, Amy owned
an
ink and toner recycling business from 2006-2017. The theme of "reduce, reuse recycle" is strong with this one.
Her favorite types of arrangements are those which utilize color and texture to match her clients' preferences and their home's aesthetic. Working with indoor and outdoor plants, she loves to help clients "bring the outdoors in." Amy says that not only can indoor plants act as an air purifier, but they're a beautiful way to decorate with nature, whether they're tall and bold or soft, like a succulent arrangement.
The most valuable educational tip she provides her clients is teaching them how and when to water their plants.  It's not difficult once you understand the how and when to watering, but it
is 
critical.  Overwatering or underwatering can mean the difference between plants that thrive and ones that just get by. If you're one of those people who cannot keep a plant alive
,
Amy might be a great person for you to speak with.
We asked Amy what her favorite plants for Louisville include. She says for shaded areas she loves the button fern.  It's adorable, has amazing texture, and is a show-stopper in containers.  For sunnier areas she feel the same way about the Prince Tut. It checks all her boxes for a container: height, texture, and interest. We also asked Amy how she plans for different seasons. "Generally speaking," she said, "I plant in spring with the intention of the design lasting all season long into September, and I plant in ways that allows each one the space it needs to grow.  Come fall and winter, I love to create designs that reflect the season, using everything from gourds to berries to evergreen branches. There's no reason a container should ever be empty so a winter design is a great way clients can appreciate their containers during the 'off' season."
Lastly, we asked Amy how she sees the partnership working between her company and ours. She replied: "I see enormous potential between Potted Plantscapes and LWRC.  Lee's clients trust him wholeheartedly and when we can expand our design ideas into their outdoor space or we introduce indoor plants to their home, I think the fact that we have design chemistry will be evident to his clients.  He's a natural in his field and our collaboration seems like a natural next step to what he's already offering his clients."
From Lee's point of view, the feeling is mutual. "I love being able to offer my clients a complete, full-service option." Knowing how Lee loves color and incorporating the five senses, you can bet he and Amy are going to spread cheer from front porch to front porch all spring and summer.
Looking to book Amy with Lee's insight? Call (502)895-1401 and we'll quickly connect you and guide you through the process. You'll be standing in your yard admiring your front porch in no time!